Original Article: Parts & People Website
Original Date Published: August 01, 2013
Murrieta Auto Collision grows by relocating and investing in more equipment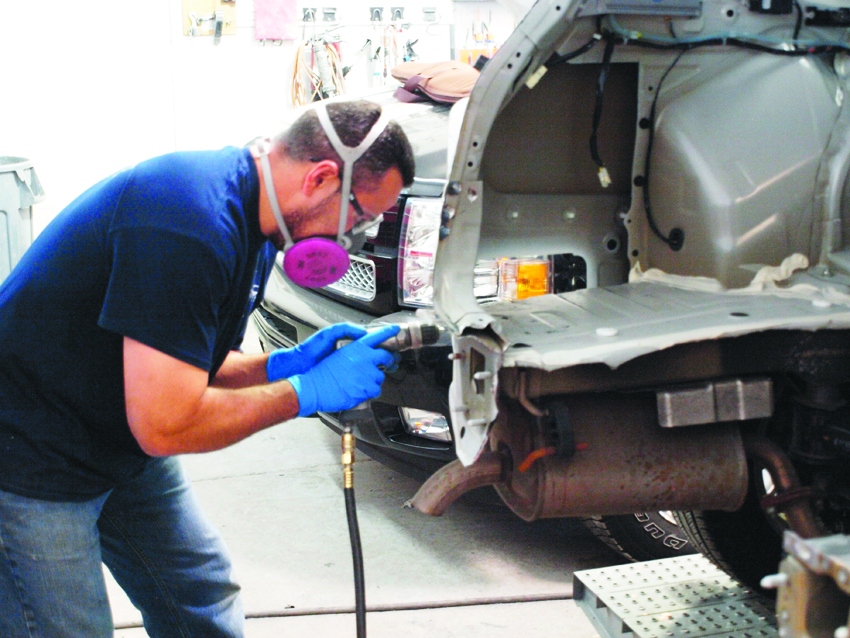 Murrieta, Calif.—Chuck Howard, head of family-owned Murrieta Auto Collision, has been in the body shop business for 30 years — in Murrieta for 12 years — and was recently able to purchase his own building and relocate at the end of 2012, which he said has helped his business grow.
"Owning our own building with fenced property, we're able to take more work in," Misty Howard, Howard's daughter and shop manager, said. "We have only been open at this location about 11 months, and there was downtime moving and getting up and running here, yet we're still about 6 percent ahead of last year because of more advertising, our website, customer discounts, and referrals."
"It took us a long time to get in a position to buy our own building," said Chuck Howard, who is I-CAR- and PPG-trained and ASE-certified, "but it's the smartest thing I've done in a long time to grow my business because we're not paying someone elses mortgage. It's an investment my family will have forever."
Misty Howard, who, along with Laura Jacques, does estimating, said the new location has a 6,800-square-foot climate-controlled shop, a 28,000-square-foot outside lot, the latest equipment, and I-CAR-, ASE-, and PPG-trained technicians.
"Technicians also attend vendor seminars from 3M and PPG, and Car-O-Liner came in and gave us training on our new equipment, which includes a Car-O-Liner rack, a Car-O-Liner computerized measuring system, and a Car-O-Liner CR500 inverter spot welder," she said.
The shop also has a Chief EZ Liner S21 measuring system, which Howard said is good for just about any vehicle. "It accommodates virtually any vehicle from SUVs and full-size pickups, to vans and unitized compacts. It's a rack our shop will never outgrow."
Howard said the shop also buys tools and equipment from Cornwall, Snap-on, and Pacific Collision Equipment. "We buy our PPG paint and other supplies from FinishMaster," she said.
The shop has a PPG-computerized mixing system, one Zhongda semi- downdraft paint booth and one Cross Flow spray booth, she added.
Howard said the shop prefers using OEM parts whenever possible, which they buy from Paradise, Moss Bros., Kearney Pearson Ford, Corona Nissan, Mercedes-Benz of Escondido, Murrieta Volkswagen, Heller Hyundai, BMW of Escondido, and Temecula Mazda.
"Most of the dealerships deliver twice a day," she said, "and some of them, like Corona Nissan, and Moss Bros., have an outstanding inventory. We buy CAPA-certified parts from Empire Collision Parts and Keystone."
Approximately 80 percent of the shop's business is retail, Howard said. "We also do fleet work for the Border Patrol, the city of Murrieta, Dewey Pest Control and ServiceMaster, and we're always looking for more," she said.
One big problem Howard sees in the collision repair business is a growing trend among insurance companies to require the use of aftermarket parts, OE-equivalent, or used parts.
"It's written right into the insurance policies that the company has the right to use aftermarket parts, and if the insured signs the policy, they agree to that," he said. "And unless a claimant in a collision requests that we use only factory parts, the insurance company will often have us use aftermarket."
In the case of Ford, Chevrolet, and Dodge parts, Howard said they also use CollisionLink. "Any time an insurance company sends us an estimate and it includes aftermarket parts, we can fax that estimate to the dealer and they will match the price with OEM parts."
The shop also buys OEM parts from K&P, which Howard said bought up all of the factory parts from dealerships that closed. "You can call them up for aftermarket or used parts and they will match the price with OE parts, which helps sell a job."
Chuck Howard said one of the trends that has changed collision repair is the proliferation of plastic in newer vehicles. "More and more cars are being made out of plastic," he said. "As an example, radiator supports are plastic so if a car gets hit it cracks the supports and takes out the headlamp and everything with it."
Cycle time is also a big issue in the collision industry. Howard said it's a huge factor in the profitability of the shop. "Making everyone — from the customer to the insurance company and techs — aware of the due dates and hours involved in the repair is critical."
In addition to complete collision repair, Howard said the shop also does restoration of classic vehicles. "Right now we have a 1955 VW pickup, a 1967 GTO, and an original Dodge Daytona in the shop," she said. "We use Dennis Ricklefs from DR Design in Murrieta for pin stripping and flames on those cars."
Currently the shop has only one DRP, Infinity Insurance. "Once we get fully settled in we'd like to pick up a couple more DRPs with smaller insurance companies," she said.
"We offer a lifetime warranty on materials and workmanship," she said, "and we offer two free details with any paint work performed, one when the repairs are completed and the second after 30 days to ensure that the customer is satisfied."
To stimulate business and be a part of the community, Howard said the shop belongs to the chamber of commerce, supports Boys & Girls clubs activities with gift certificates, and offers customer discounts and referral incentives.
"We also support our local senior centers and Oak Grove Center," she added.
The shop's website has helped increase business by 30 percent, Howard said. "We have a discount page on our site, and the key words that help our website pop up on Web searches" she said. "Also, there's a QR code on my Scion shop car that takes you right to our website."