Testimonials
These are not paid testimonials. They are from actual customers that have had worked performed by Murrieta Auto Collision.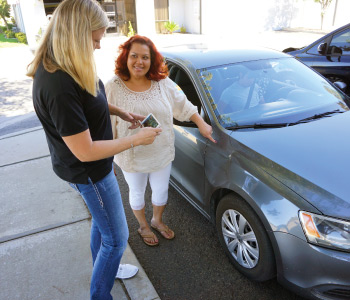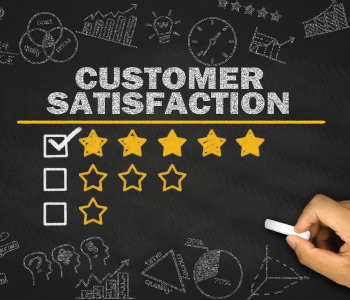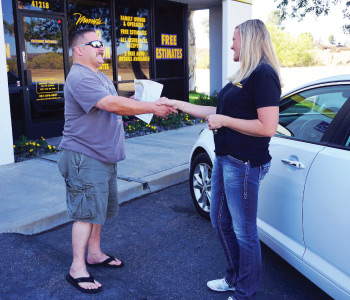 Just wanted to say thanks for everything, you did a great job as always. I really appreciate everything with the help on my deductable and also the front bumper, I noticed that it also got painted. You guys are the best and you know I refer everyone I come across with body work to you guys.
Thank You,
Josslyn
We just picked up our FOURTH repair job with Murrieta Auto Collision. They are the best! Wouldn't consider anywhere else. They refuse to use substandard parts and will take insurance companies to task. We have recommended them to others and will continue to do so.
Booklover
(from Yahoo! Local review)
I just want to tell you folks how happy I am with the work you've done on both my 74 Ghia and Sprinter camper van. I had breakfast yesterday with Jim Morris, another satisfied customer, he's the owner of the yellow 57 T-Bird you guys recently finished as well. We talked about your friendliness, your attitudes, all the little things you did – both of us had sagging drivers side doors that miraculously now are straight, for example. I took the rear seat out of the Ghia to trace electrical connections and found my jack, handle and other tools neatly bundled together in the compartment. I shook my head in amazement. This is what separates you guys from the rest of them, you go the extra step and also do it right. On top of all this, your prices are reasonable! My insurance covered the Ghia work but the van work came out of my pocket and it was money well spent. So, thanks to all the Howards, as well as Doug and the guys out in the shop. I will tell everyone I can about how well I was treated personally and professionally and that if they really care about their vehicle and want it done right, don't trust anyone else but Murrieta Auto Collision to do the work.
John Subik
Temecula, CA
Chuck and all, It's exactly what I wanted! A functional car. We appreciate your "fair estimate" and quick turn around. My wife and I will highly recommend your shop.
Regards,
The owner of the 356,000+ functional Avalon – Jim
To everyone who helped put my little car back together again, Thank you for making this a smooth and easy process. For being professional, and for going the extra bit to make sure my car is safe and ready for me!
Sincerely,
Alexis Bennetts
These folks are the only shop in Temecula I would have paint my classic car. They began restoration on a 70 Chevelle SS for me and the work is of concourse quality.
TG
(from Yahoo! Local review)
To all, Thank you all so much for repairing my little black VW bumper. I stopped by last Saturday with the bumper rubbing the front wheel and you took it right away and fixed it-no charge. You are all very special. Your beautiful daughter up front is especially sweet and kind to all, great asset. Thanks again. I will let everyone know your great business ethics.
Blessings,
Ann Kenyon
Dear Chuck, I just wanted to thank you again for the recent touch-up you did on my Vette. I really love my car and drive it a lot; so , of course, there are always those occasional road hazards. This is the second time you have worked on my car and each time your staff have all been very pleasant and helpful. I couldn't believe that there wasn't even a charge for the work! In these times when so many people don't seem to want to take the time to do those little extras which not only bring customers back, but make them happy to recommend business to their friends. I have Charley to thank for recommending you, and I will certainly continue to refer friends to you in the future.
Thank You,
Sandy McGinnis